PortableApps.com and OpenSourceHipHop.org are proud to announce a launch party this evening at Sputnik Bar in Brooklyn, NY to launch the upcoming PortableApps.com Music Production Suite. At the party, there will be performances by:
Bonita Applebum - the1shanti and Shefali are next generation Native Tongues continuing on with the Love Movement
Heavy Pennies - NYC's next huge singer/songwriter
45 Shootout - Live band dance hall wonderfulness
ElekTro4 and DJ Alias will be spinning tunes the rest of the night.
Facebook Event Listing
If you follow us on Facebook, you've already seen our online Facebook event invitation. If not, you can easily find us on Facebook today.
Launch Party Flyer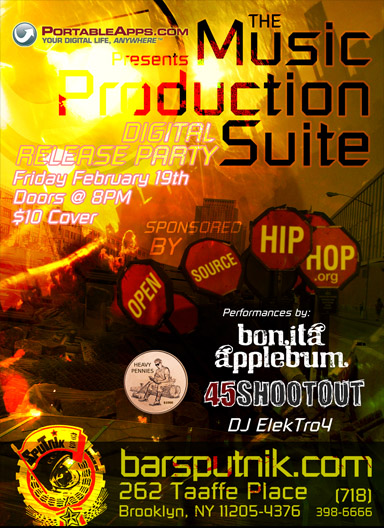 We hope to see you there tonight. Stay tuned today for more details on the Music Production Suite.
Story Topic: