PortableApps.com is proud to announce the latest test release of our upcoming Platform (codename: Leo). Pre-Release 3 of the 'Next' platform is available for immediate download. This 'Next' release introduces automated and customizable folders (aka categories) in the menu, our new theming engine with multiple chrome styles, the Portable App Directory app store for automatic download and installation of portable apps, find-as-you-type search to easily find apps in your ever-growing collection, an improved updater with better support for proxies, an improved options selection window, more-complete translations into more languages and lots more. Pre-Release 3 fixes several bugs, improves localizations and re-introduces automatic proxy support including proxy authentication. So, let's get to it... (permalink)
Existing 2.0/Next users can automatically update by clicking Manage Apps - Check for Updates
What's New in Pre-Release 3
Pre-Release 3 fixes a number of issues with the last release and improves localization. The most significant issues are the introduction of proxy authentication auto-detection and support, fixes for updating and installing uTorrent Portable, fixes for blank updater and app directory windows, and fixes for the task bar icon behaving improperly. The complete list is available on our pre-release bug tracking page.
We'll be doing a second pre-release later this week or so (dates subject to change as always) the next release on October 15th with additional new features. We wanted to get the proxy authentication detection out to everyone to ensure it works on corporate and university computers as soon as possible.
What Was New in Pre-Release 2
In addition to bug fixes, we added in some advanced features including the ability to hide the word "Portable" from all apps in the menu, the ability to disable splash screens in all your apps with a single checkbox, and the ability to disable the scrollbar in the menu for users who don't like it.
The rest of the features listed were introduced in Pre-Release 1...
Customizable App Organization With Automatic and Custom Folders
You asked for it, you got it. And then some. The ability to organize apps into folders is just the tip of the iceberg. You can combine automatic folders (all apps 'know' if they are an Internet app or an Office app and will show up in the appropriate folder), your own custom folders, favorites to pin apps at the top or to the first page and a 'smart' list ordered by the apps you use most. You get to decide how to organize your apps so you can easily get to them. Here's a preview:
Portable App Directory™ - A Built-In Portable App Store
Now it's easier than ever to download, install and use the portable apps you want with the built-in app store. The Portable App Directory shows you an easy-to-navigate list of all the available apps you don't yet have organized by category. You check off the ones you'd like to install and it does the rest, just like our automated Updater. They'll even show up in the right categories in the menu when they're installed, all automatically.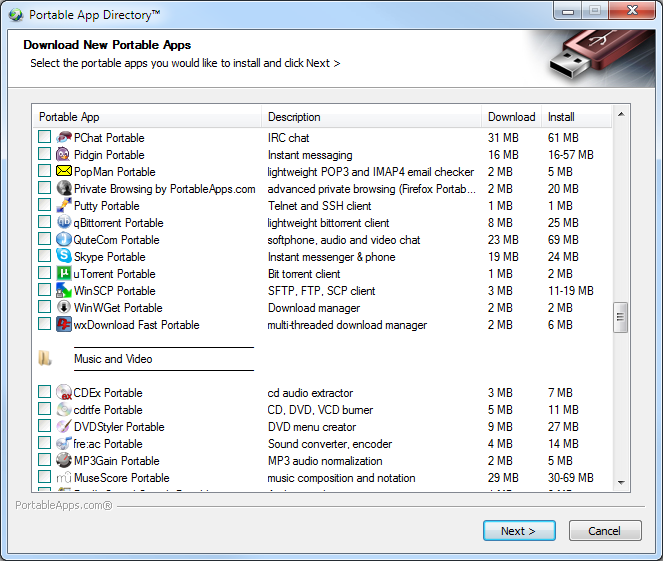 New Themes and a New Theming Engine
This release also sees the introduction of our new theming engine. With a choice of 6 chromes and 17 colors each, you've got a lot of choices in how you'd like the menu to look. From our classic beveled style, to our modern flat look to our Aerish theme that blends right in with Windows Vista and 7, you can easily pick the look you like. And soon, you'll be able to add in custom themes as well.
Find-As-You-Type to Quickly Search Your App List
In this release, you're now able to automatically filter the app list by typing a few letters of the name of the app you are looking for. With the menu displayed, you can just start typing (or type / to switch to find mode just like in Firefox). As you type, the app list is narrowed down to only apps that match what you've typed. You can hit enter to launch the first app in the list. Hitting escape or backspacing all the characters out and then once more with none entered will exit Find-As-You-Type mode and switch back to your normal app list. You can even hit the menu's hotkey (CTRL-ALT-SPACE) from any app to pop it up and just start typing to launch your app, all without a mouse.
Easy to Use Options Window
Customizing the PortableApps.com Platform to your liking is even easier with the organized Options window. You can alter the language, font size, transparency, automated language switching, app icon organization, change themes and more.
Improved PortableApps.com Updater - Keep All Your Apps Up To Date
The bundled PortableApps.com Updater has seen some nice usability improvements. It will automatically download the extra bits for online installers itself so you'll know exactly how much time is left. It's got improved translations. It automatically works with most proxies, even for online installers. There's even an option to have it automatically and silently check for app updates as you launch the platform. It's under Advanced Options, though it's disabled by default as the menu will minimize when it runs (a bug we're working on).
Discussing The Pre-Release, Enhancements and Bug Reports
As there is much to discuss with this new release, we've separated out a few forum threads for discussing:
Version Number Change - Final Won't Be 2.0
We're going to be changing the version number for this release due to the long time between the original betas that would have been 2.0 and this new development effort of what will be our next release. For now, we're referring to it as 'Next' even though the internal version will remain 2.0 while in testing. We've got a forum topic to discuss the various options for the next version. Please give the options a read and share your thoughts there.
Donations - You Can Help Keep PortableApps.com Free!
With increased popularity comes increased costs for bandwidth and hosting. We're also heading to the open source convention in a couple weeks to teach other developers how to make their apps portable. Your donations are GREATLY appreciated and help make all this possible. Please become a PortableApps.com supporter today!
- Please help support PortableApps.com's development and hosting
The Road To The Next Release
We'll be releasing additional pre-releases over the coming weeks. While termed a pre-release, there are still some known bugs in this release as well as incomplete translation loading in many places. After too much feature creep in the original 2.0 work, we've paired it back significantly to make it easier to test and get the releases out faster. We'll be rolling out file associations, automated app shutdowns, portable fonts, caching the full app list between sessions and a few other features in addition to bug fixes and translation updates over the coming weeks. We've already completed much of the work needed for much of it and will post more soon.
Download Today
You can download the new test version from the download page. Get it today!
Story Topic: